Complete Guide on Email Marketing Strategy in 2022
Create a campaign emailing effectively with specialized agencies
Find my agency
With the birth of social networks, the declaration of the RGPD and the emergence of inbound marketing, many companies have begun to give less importance to their emailing practices. So, does the emailing campaign need to be worried about?
According to studies by Plezi, the leading platform for marketing automation, emails maintain an average rate of effectiveness in email marketing, whether in B2B or B2C. They therefore remain powerful marketing tools.
In order to succeed in email marketing, working with a specialised agency is the best solution. Sortlist can put you in touch with a good email marketing agency close to your company.
E-mailing marketing: what is it?
Basically, an email is an electronic mail that allows remote digital communication between two parties. The emailing campaign is therefore a sending of several emails to several recipients. It is a marketing strategy that has been adopted in business since the beginning.
The emailing strategy is classified as direct marketing, because it consists of addressing the recipients directly via clear and unambiguous information.
Like a simple communication email, an email sent as part of a marketing campaign is opened in email readers such as Google, Yahoo or Microsoft Outlook.
What are the different types of email campaigns?
Prospecting email
This is basic direct marketing, which consists of sending an e-mail with the aim of acquiring new customers. Recipients often find this email marketing intrusive. However, it remains effective in acquiring new leads.
For maximum opening rate, it is recommended to send original acquisition emails. Indeed, consumers or customers do not wish to receive the same types of prospecting emails, such as: "Hello X, we are Y. We would like to offer you our service of... Do not hesitate to come back to us if you are interested in our offer. We look forward to working with you".
In many cases, companies send a prospecting e mailing three times: a first mailing to present and offer its services, a second to remind the recipient and a third mailing for a new reminder. After these 3 emails, if the prospect does not react, the company can make another attempt another time or delete him from its contacts.
Loyalty email
Probably the best known loyalty campaigns are the newsletters. When you open a website, you often have a small tab that appears, asking you if you want to subscribe to the site's newsletter. To accept, you must specify your email address in the box dedicated to that. Otherwise, you have the right to refuse and close the tab. By subscribing to the newsletter, you will receive regular content, keeping you up to date with the latest news from the company and its website.
The other type of emarketing loyalty message is privilege offers. When you open the email, you will find a little note saying that you have received a small gift as a thank you for your loyalty. It can also be a promotion, a free accompaniment, a voucher or any other type of bonus offer.
Email retargeting
This type of e mailing strategy can be translated as "retargeting by email". Retargeted emails are primarily intended for visitors to your company's website. These are visitors who have only glanced at your site without having performed any specific action, such as purchasing a product, subscribing to an offer, downloading a whitepaper, etc.
The main objective of your emailing campaign will therefore be to send a kind of follow-up email to these types of visitors, with a view to converting them into potential prospects and then into loyal customers. By receiving the email, these people will be more likely to come back to your site to perform a specific action.
Transaction Email
It's a kind of automatic email response to a customer's email. An acknowledgement of receipt indicating that you have received his message, that you are taking it into account and that you will respond ASAP.
This is one of the good practices in e-business. It helps to maintain good communication and a good relationship between you and your customer. In most cases, if an Internet user has made a request by email and does not receive a transactional email, he or she will look elsewhere. Setting up a transaction email is an excellent customer loyalty strategy.
What are the different types of emailing formats?
Emailing formats are the type of communication medium through which the message is transmitted. E-mailing campaigns can take three main forms.
The text
This is the most common emailing format and also the simplest. Although it allows for the integration of information with all its details, it has the lowest opening rate due to its lack of originality. The recipient's feedback is even less expected as he will probably just have flown over the text for lack of time without even having assimilated it.
The image
The usefulness of visual communication in the world of emarketing is well established. Nowadays, an image e-mail is much more interesting than a text message. The image allows you to better highlight your brand and your message thanks to an easily assimilated design. The click-through rate of the e mailing image campaigns are high: they are a proof of a good marketing efficiency.
Warning: in many cases, email marketing in the form of an image is considered spam by some software and will end up in junk mail. The recipient will therefore not be able to see the message being sent.
HTML
For an HTML emailing campaign, you will have to modify HTML or CSS codes in order to create unique content. This type of format combines text, image and other blocks. If your company is a big brand, this is the recommended format because of its efficiency and professionalism.
If you are not comfortable with HTML coding, you can generate email marketing using an email template.
If you have planned emailing actions, you can benefit from the advice and support of one of Sortlist's e mailing agencies. Our agencies have worked on large emailing campaigns such as the campaign for Mr.Bricolage, a retail company, and Quechua, a famous brand of sports goods.
What are the advantages of e mailing?
E mailing campaigns are of great importance in the marketing strategy of professionals. The campaign makes it easier to reach the main customers in a company's database.
Dispatch in one click
The speed of sending emails is probably the main advantage of emailing. Indeed, the setting up of the sending is done in a few minutes and in only one click. In addition, emails can be scheduled and sent automatically. This represents a significant time saving in your company. All you have to do is select the recipient customers in your database and that's all there is to it.
An e-marketing mailing is effective if you have urgent information to pass on to your community or a passing promotion, for example.
Creative and original messages
The main format of the marketing mailing used in companies is HTML, because of its practicality and the creativity it offers. Indeed, this method gives free rein to your imagination when creating your message. You are free to select the best colours, text types and layout for your brand.
From a simple illustration to a GIF or a video motion, using HTML for your campaign allows you to integrate all means into your email to increase its opening rate.
Sending with an interesting cost
Of all the communication strategies on the market, the mailing campaign is probably the most accessible. Compared to marketing advertisements, e mailing campaigns even allow you to exceed your objective.
Confidentiality of personal data
The marketing mailing falls within the framework of the General Regulations on Data Protection (RGPD) stipulating the obligation to keep secret the personal information collected in the databases.
Follow-up in detail
One of the advantages of mailing campaigns is the possibility to follow the evolution of the campaign in all its details in real time. Click rate, opening rate, number of visits, conversion rate: the statistics allow you to define the ROI of your campaign.
Tracking also allows you to detect flaws and will allow you to improve your next mailing. But also, the figures released allow you to study the behaviour of your consumers in order to better direct your future campaigns.
SMS Campaign
Instead of sending e-mails, you can opt to send SMS messages to your customers. SMS ensures an opening rate of more than 80%. It can be opened as soon as the customer receives the information. During an e mailing campaign, the recipient must have access to the internet in order to consult his mailbox. This is not necessarily always the case.
Why e-mailing?
The e mailing makes it possible to maintain a communication between the company and its customers. Through a newsletter, a brand builds consumer loyalty by keeping them informed of the latest news and promotions.
According to a study conducted by Ventura Beat, a mailing campaign generates a 127% return rate in SMEs. E-mailing is therefore an excellent way to optimize a company's return on investment by more than 100%.
Combination with social networks
Emarketing nowadays takes place mainly through social networks. Professionals are building a community on these platforms to broaden their notoriety. For even more effective digital marketing, it is smart to combine the use of social networks with mailing. Indeed, thanks to an emailing campaign, you can inform your customers of content on your social networks and redirect them to them via a CTA.
If your objective is to acquire new customers or increase the number of visitors to your site, studies have shown that an email is 40 times more effective than social networks. But given the power of social networks today, combining your social account with mailing can take you to the ultimate in digital marketing for your brand.
How to create an e-mailing campaign?
In order to carry out an efficient and effective e mailing campaign, the establishment of the strategy should not be taken lightly. Here are the steps to follow for a mailing ensuring a good ROI.
Updating the database
Remember to update your database. Indeed, for an objective to be achieved, you must first define the targets well. Sending emails to the wrong people reduces the chances of achieving the campaign goal. A well-targeted email has a better click rate.
So you must:
Delete inactive email addresses.
Classify your customers according to their behaviour.
Update your customers with new information.
Definition of the campaign objective
Your goal and objective must respect the SMART method: Specific, Measurable, Ambitious, Realistic and Time-bound. With a clear goal in mind, you will be better able to select potential recipients from your database.
The main objectives of the mailing
Increase in the number of visitors to a website.
Redirection of Internet users to the company's social networks.
Seasonal promotion.
Presentation of a new product.
Presentation of the latest company news.
Etc.
Take care of the presentation of your mailing
This is one of the main steps of the mailing. If you want your email to have a maximum opening rate, in addition to following the steps of the strategy, it is also important to respect certain points.
Best practices for a successful email marketing campaign
The weight of the mail
Before shipping, make sure that the weight of the contents is not too heavy. This will allow it to load faster and therefore be opened more quickly by the recipient.
The title of the mail
That's the subject of the e-mail in question. It must be striking in order to arouse the recipient's desire to read. Otherwise, its chances of opening will be less.
The subject is what the recipient sees first when receiving the email. If the reading at first glance seems uninteresting to him, he will not open the message. In the worst case, it will even send the mail directly to the trash.
Content
That's the message in the mail. It should be concise, as the recipient may not have the necessary reading time. The content must relate the 5 W's (who, when, where, what, how). This is the best way to get straight to the point while still meeting the exact title of the campaign. Also think about the AIDA formula when preparing the message. The latter must therefore generate Attention, Interest, Desire in the consumer in order to push him to Action.
Tip: Put a "call to action" at the end of your message. It can be a button, a banner or an image that the customer will click on to be redirected to a blog article on your site or a product on promotion, for example.
The signature
This is the indication of your brand or company at the end of your email. The signature may contain your brand name, the name of the issuer's workstation, the issuer's contact information and social networks and your company's website. It is a way of giving more credibility and professionalism to communication.
Your email address is also part of the signature. It must therefore be established in a serious manner. There are many tools to generate a pro email address.
The Charter
It's the presentation of your email. Colours, font, illustrations, formatting must represent your brand. The charter must be nice to see.
The e mailing responsive
To raise the bar even higher, include responsive design in your email marketing. Responsive emailing is when mail is readable on all terminals: smartphone, computer, tablet, etc. A responsive email has a higher open rate.
Today, the majority of mail is read via a smartphone or tablet, which makes responsive emailing even more important.
Timely scheduling of the campaign
Once you've polished your email, don't send it right away! It is important that the e mailing is done at the right time, in order to optimize the expected results. Always use your primary target to drive your consumers into action, study their behaviour and schedule your online direct mail during the niches where they will be most responsive.
Analysis of the results
To conclude whether or not the goal of your newsletter has been achieved, you need to study the performance indicators of your campaign.
Opening rate
It is the number of sent emails opened by the recipients compared to the initial number of emails.
Click rate
It is the number of clicks on one or more links inserted in your mail compared to the initial number of emails.
Bounce rate
This is the number of emails that failed to be sent compared to the initial number of emails.
Drop-out rate
This is the number of people who have unsubscribed to your newsletter compared to your previous e mailing campaign.
If large companies like Orange still integrate mailing marketing into their communication strategy, then why not you? Thanks to Sortlist, you will be able to collaborate with a specialised agency that meets your needs.
What are the e-mailing tools?
B2B or B2C, whether you are looking for free or paid software, a thousand and one platforms allow you to set up a mailing campaign. From updating the database to the establishment of the mail and the analysis of the results, you can carry out many actions thanks to these tools.
Outlook is often the emailing platform common to all companies, regardless of their field of activity. However, the service is limited. This tool limits the sending of messages to 300 recipients per day. Gmail is another common emailing tool. It allows a mailing to be sent to 500 people per day. These are therefore platforms intended mainly for very small businesses. If you are a big brand, think about other emailing software for a more massive sending and wider actions.
Emailing tools
For an effective mailing, here is a list of the best emailing software on the market today:
Sendinblue.
Sarbacane.
Mailjet.
Dolist.
Message Business.
These tools put in your hands all the essentials to carry out your mailing: email template, email creation, sending, analysis, etc.. These tools are easy to use and you also benefit from advice and optimal support throughout your campaign. All you need is an account on the platform of your choice and to subscribe to the package that suits you. There are many free platforms, but with a more or less limited service. In addition to being mailing software, some tools are also CRM tools.
How to avoid spam e-mailing?
Many Internet users do not read your e-mail, simply because they do not see it in their mailbox. Why is this? The mail has probably been sent in spam. This happens if the user has activated the spam filter on the browser bar of their computer or if they have flagged your company as unwanted.
Criteria to avoid being spammed
Don't write an overly attractive email, i.e. with words like "win", "enjoy", "offered", etc.
Avoid putting a single image in your email, as filters ignore this type of content and will automatically place it in spam.
Avoid text with excessive use of capitalization and exclamation points.
Send your newsletter only to people who have agreed to subscribe to it and at the right time.
Some works that might inspire you
A delightful selection of our agencies' latest creations
Social Ads para empresa financiera en Real State
Social Ads, SEO, SEM, Display para Yacht Charter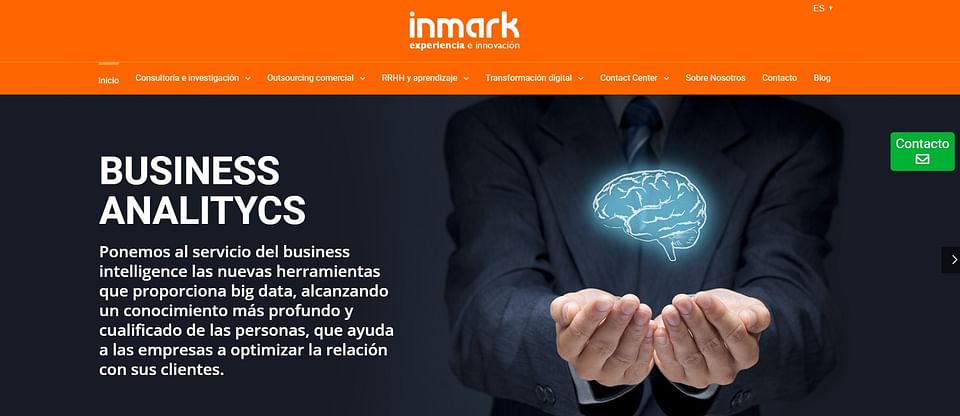 Creación web, SEM, posicionamiento para consultora
Marketing Digital Para Academia de formación
Web, SEO, SEM, desarrollo y diseño web para Kottao
Web, SEO, SEM, Desarrollo Web y Social Ads Dhoce
Thousands of companies use Sortlist
Frequently Asked Questions
Why is Sortlist THE ideal partner for your mailing projects?
Working side by side with mailing agencies, Sortlist is the ideal intermediary to put you in touch with the specialist agency that meets your needs.
What are the advantages of working with a Sorlist mailing agency?
By working with a Sortlist agency, you can guarantee the smooth running of your campaign. Our agencies are made up of experienced professionals who listen to and serve their clients. All you have to do is tell them about your project, detailing your expectations, and they will take care of the rest: creation of an account on the mailing tools, elaboration of the subject and content of your campaign, sending of emails, analysis of the results, etc.
How to get in touch with a Sortlist mailing agency?
You need to fill in the form you will find on our website. We will then send you a form in the form of a multiple choice question. Simply tick the box that best corresponds to your project. After you validate the form, our website's algorithm will start up to show you all the Sortlist emailing agencies that meet your expectations. You will receive the list of agencies with their contact details by email in order to study them in more depth.
What are the different Sortlist mailing agencies?
Sortlist works with the best agencies around the world that offer a quality service. Among our emailing agencies you will find Dynamix Creative, The Wave, Toutenpixel, Colombo Agency, Nova Agency, etc...
Think Sortlist for your next need!
Simplify your research process and find the agency made for you.