Complete Guide on Video Marketing
Create a quality marketing video with the right agency
Find my agency
Making a marketing video is a great way to get the attention of your target audience. Indeed, every day hundreds of thousands of hours are spent watching videos on platforms such as Youtube.
Moreover, Internet users tend to prefer this format to articles that require a certain amount of concentration. It is therefore in your best interest to integrate video into your marketing strategy.
Many companies have already adopted it and some can attest to a positive return on investment. To gain visibility, you too can create videos for your website and social networks.
Sortlist helps you find the best video marketing agency in your area.
How to make a marketing video?
Several prerequisites are necessary to create an interesting marketing video.
Making an effective marketing video: thinking about the target group
The point is to put yourself in the target's shoes. That is to say that the video content must be able to answer the questions and even the needs of Internet users.
As much as possible, share concrete information. Talk about the things you know or promote your products. Talk about yourself in order to strengthen your brand image. Make an original company video presentation.
Define your objective for the motion design project
This point is somewhat similar to the previous one. Indeed, it requires that you have a clear idea of the expected results of digital video marketing.
If these are your first steps in video marketing, you can expect a moderately satisfactory result. Stay positive, this gives you the opportunity to improve your storytelling skills. In particular by analysing the different performance indicators linked to your objective. Also ask yourself the right questions to identify the different points that need to be corrected in order to move forward.
Note that these tips can be followed to optimize the value of your content.
Writing the script for content marketing
If you've watched some videos on Youtube and social networks, maybe you've noticed that some influencers improvise in their content. In their case, this may work to a greater or lesser degree, in yours, this tactic should be avoided. Among other things, it can affect the quality of the video, your credibility and your brand image.
The best way to communicate effectively through video marketing is to write a script. By adopting this technique to your marketing strategy, you will benefit from the following advantages:
Your storytelling adopts a better structure and keeps prospects on the edge of their seats until the end.
Ideas follow one another in an orderly fashion.
The video has a more interesting background.
You convey a more professional image to consumers.
Video content with real value is more likely to create a link between potential customers and your brand image.
A more concrete and precise vision of the type of content you want to achieve your goal.
A storyboard that is easier to produce.
When writing your speech, avoid complicated jargon and words. Your communication strategies, including video marketing, must be simple to captivate and, above all, ensure an optimal conversion rate.
Make the storyboard of your marketing video
The storyboard is another element of your video marketing strategy. It allows you to keep the thread running throughout the production of your content.
Once you have defined the target customer and your objectives, move on to the length of the video. The length of the video depends on the media on which you will make it public. Youtube is ideal for long-form video content such as a tutorial video. While social networks such as Linkedin and Facebook are suitable for short videos up to 1 minute in length.
Maximize lead conversion by inserting calls to action at the end of your videos. This can be a link to your company's website, your contact details, share the link, subscribe to the newsletter, etc. Anything is good as long as the customer has the opportunity to contact you.
Depending on the type of video to be created, you can choose one or more locations.
You already know that for consumers to see your videos through to the end, it is important to bring rhythm to your content. The editing part helps you do this by making it easier to link the sequences together.
Save time in the making of your movies by entrusting it to an agency found on Sortlist.
How to make a video attractive?
Everybody likes to watch videos. This is also the case for consumers who want to learn more about a brand or product. Given the number of videos circulating on the web, social networks and specialized platforms, it is difficult to capture the attention of the target customer. Even more so if you don't know how to make your filming efforts attractive to everyone.
Video marketing strategy: giving a title with impact to capture the client's interest
Before looking at your content, a potential client will check whether the title is of any interest to them.
Therefore, to encourage them to view your filmed work, give it an impactful title.
Focus on quality content
More and more Internet users want to get information quickly. Compared to reading articles, videos on the web already meet this demand rather well. However, one must also consider the fact that if the content drags on before getting to the point, the potential customer will stop watching it. This reduces your chances of creating commitment and an excellent customer experience.
To avoid this, make sure your communication is direct. Hook the prospects in the first few seconds. Think about and answer any questions they might have while watching your videos. Explain how your brand and what you represent can benefit them in their daily lives. Finally, avoid bragging about your professional achievements, even if it is tempting...
Video marketing: adapting to the ideal length of time for each social medium
In addition to making sure that you keep the interest of the Internet users, make sure that the duration of each of your videos corresponds to the different social networks where you intend to publish them. Here are the characteristics of each social network according to Hubspot.
Youtube, this giant of online viewing knows how to be a must for both 2-minute and long videos.
With Facebook, prefer the entertaining and short 1-minute formats.
Thanks to Linkedin and the 1 minute format, you can create new contacts and share recent information about your company.
If you plan to use the video on Instagram, prefer 30-second and personal content.
Twitter is also ideal for updating your company information in a 45-second format.


Filming vertically to give your brand better visibility
Until a few years ago, videos filmed vertically with black stripes were not very popular. Currently, it is quite the opposite: the vertical video format is being used more and more. Quite simply because Internet users watch a video more often on their smartphone and therefore vertically.
Social networks that are aware of all this remove the black stripes when a video is viewed vertically. Note that you can still use other video formats for your website. For example, the square, portrait or landscape format.
Create an emotional bond and entertain with humour
A bit of humour can be very useful in capturing consumer interest. Young Internet users and people in general remember things that make them laugh more easily. Moreover, humour often creates an emotional bond.
So including a little joy in your video marketing strategy can be a positive way to create engagement and increase brand awareness.
However, it is complicated to laugh at everything, even more so if you work in a sensitive sector such as health care. The use of humour in your videos depends on the products or services you offer, your editorial strategy, the target market and your personas.
Focus on educational content
Promoting your products or brand to create commitment can be positive.
However, you can do more by giving tips or advice to your target. In this way, you increase your chances of meeting their needs.
Integrate subtitles into your video marketing strategy
You may have noticed this tendency to watch videos at every opportunity. This can happen on public transport, during the work break... In short, in places where it might be inappropriate to turn up the volume on your smartphone. That's why it's important to place subtitles on your content for marketing video.
This is all the more recommended because social networks such as Facebook and Instagram automatically launch video playback without sound enabled. As a result, without the presence of subtitles, it can be difficult to get traffic and engage Internet users in a shopping journey.
Optimize the visibility of filmed content with SEO
The interest in making marketing video would be unimportant if the number of consumers viewing your content is low. Thanks to SEO, you'll have a better chance that your videos will be seen.
Posting your videos on Youtube makes sense as it is one of the leading video search engines. By inserting relevant keywords, your communication project through video marketing will benefit from a good referencing.
Collaborate with the right agency to ensure the success of your video marketing strategy.
Why make a video presentation?
There are several reasons why it may be relevant for your company to make a video presentation.
Getting your message across through a plesbicité communication medium
In today's society, almost everyone spends hours on social networks. More than just watching different content such as video, Internet users like and share it.
Among other things, if the quality is there for your video marketing project, your message will be relayed by your targets.
Video marketing to draw attention to your financial support projects
In order to develop your business, you can look for other means of financing than a bank loan. Participatory financing or crowdfunding can help you in this regard.
To encourage investors to turn to you, your presentation video can do the trick.
Allow as many people as possible to discover your business
Gaining the trust of prospects is also good for building commitment to your brand. A presentation of you on your website is good, but a video showing the behind-the-scenes of your business is better.
Your company promotional video can be in the form of an infomercial, an interview or highlighting the skills of your teams. Young people particularly appreciate this opportunity to see behind the scenes.
Let Sortlist help you find the right video marketing agency in record time.
How to create an effective marketing video for a digital strategy?
Here are some tips for creating an effective marketing video.
The material to make a video
To shoot, you obviously need a camera. If your phone's camera is powerful and stable enough, you don't need to buy a new, state-of-the-art camera. Otherwise, you would have to invest in it.
Mistakes to avoid for an effective video marketing strategy
It is advisable to do the shooting in a quiet and open area. Be aware that, to the naked eye, exposure to light may seem ideal, but in video, the reality is quite different. For this reason, check this setting before you start filming.
Also, remember to shoot from different angles if you are shooting outdoors. This will give a more dynamic side to your video. On the other hand, take your time to have several sequences and to guarantee a certain stability.
If you are making an unedited video like a live video, control your speech to avoid hesitation and blanks. If you are going to edit your video, you can cut out those moments.
The best agencies in your area know every one of these tricks. Sortlist can put you in touch with them.
What is the objective of a video marketing strategy?
A video content marketing strategy can satisfy several objectives. Here they are.
Offer your company a better communication
Video is the best way to attract the attention of Internet users. With good reason, images and sounds are generally perceived as more powerful than written words.
Video marketing to improve your brand image.
Among the best objectives for video is the possibility to gain notoriety. Indeed, posting videos on the web allows you to :
Increase the visibility of your company and the traffic to your website.
Promote your products and services when consumers are looking for them.
Attract more customers.
Improve the reputation and awareness of your brand.


Gain transparency towards third parties
Your video marketing strategies can be indispensable to talk transparently about your business.
Internet users will become aware of your identity, your processes and values and will have more confidence in you. Without forgetting the expertise of your teams who can reassure them.
Objective of the marketing video: to optimize SEO referencing.
Creating a Youtube video or for another platform is likely to improve your search engine positioning.
What you need to know is that the more Internet users view a video, the higher it goes in the search results. As a result, traffic to your website increases.
Encouraging the buying journey of customers
Boosting sales is undoubtedly the most sought-after objective of marketing video. Today, thanks to the Internet, before each purchase, Internet users search for products. In fact, they make sure that the products are of high quality and that they correspond to their needs.
The format of video that can push to make a purchase is wide. There are videos such as tutorials, product tests, interviews, advertising...
Sortlist puts you in touch with specialists in video animation, motion design, video editing for Facebook and other platforms such as Youtube, Vimeo...
How important is storytelling in video marketing?
Everyone loves stories and asks to discover new ones regularly. Storytelling is an art that can be very useful to optimize traffic to your video blog or company website. Here are the reasons why you should adopt the art of storytelling.
Creating emotion and commitment
Prospects do not appreciate advertisements that directly encourage them to make a purchase. This is why it is useful to turn to storytelling videos that invite you to read between the lines without directly inciting you to make a purchase.
Telling a story as part of your video communication strategies allows you to offer less commercial content. With this format, it's more about emotion and the discovery of an adventure. If the experience reaches your target audience, more than just stimulating them to make a purchase, they will feel the desire to invest themselves in introducing you to them.
Telling them about your journey to highlight the human side of the experience
There's nothing like talking about what motivated you to make your products or offer your services to create customer engagement.
Not only do you reassure people, but you also convey the impression that you are talking to them face-to-face.
Talking about the benefits of your brand using storytelling and video marketing
Opting for the storytelling technique in your video marketing strategy allows you to show the advantages of your company. Better still, it shows how much you have achieved for your previous customers.
By seeing this, the qualities of your achievements, Internet users will be more inclined to trust you.
Some works that might inspire you
A delightful selection of our agencies' latest creations
SEM y Social Ads para red de concesionarios

Social Ads y Google Ads + Captación de LEADS Autom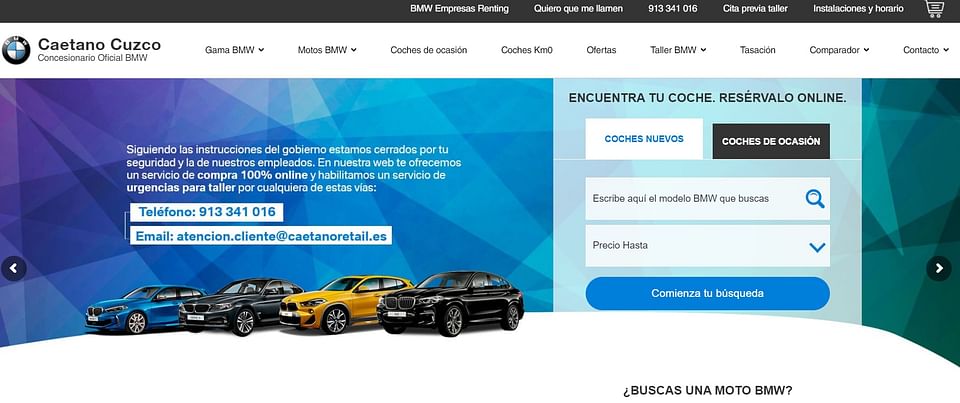 SEM/Social Ads para concesionario BMW
Thousands of companies use Sortlist
Frequently Asked Questions
How much does it cost to go through Sortlist to find an agency?
The Sortlist service is completely free of charge. Therefore, you can use our platform to search for video agencies for all your marketing communication projects.
After using the Sortlist search service, is it mandatory to work with one of the proposed agencies?
No. Using the Sortlist service is without obligation. You decide whether or not you want to work with one of the agencies on the list.
How does Sortlist help you in your search for a video marketing agency?
As soon as you have a video production project, fill in the Sortlist brief. It only takes a few minutes. Give as many details as possible so that we can offer you a more than ideal agency.
For example, tell us if you want a motion design video, an agency using Cisco solutions, specializing in webinars. Or the types of media on which your videos will be posted. Also note that the agencies we will propose are located in your area.
What happens once Sortlist has provided you with a list of the best video marketing agencies?
Before you make your decision, start by chatting with a video agency on the list. If things go well, you can meet the agency in person, brief them and sign a contract.
Think Sortlist for your next need!
Simplify your research process and find the agency made for you.